Where do I get barcodes from?

GS1 (https://www.gs1uk.org/) are the people who manage barcode standards and allocate GTINs (the numbers underneath the barcode) within the UK.
You can often find companies selling barcodes online, other than GS1, but we would recommend that you use GS1 as they are the official UK distributor of GTINs.
Pricing
For an annual fee, based on your annual turnover, you will have access to GTINs that will be unique to you and that can be used to uniquely identify your products.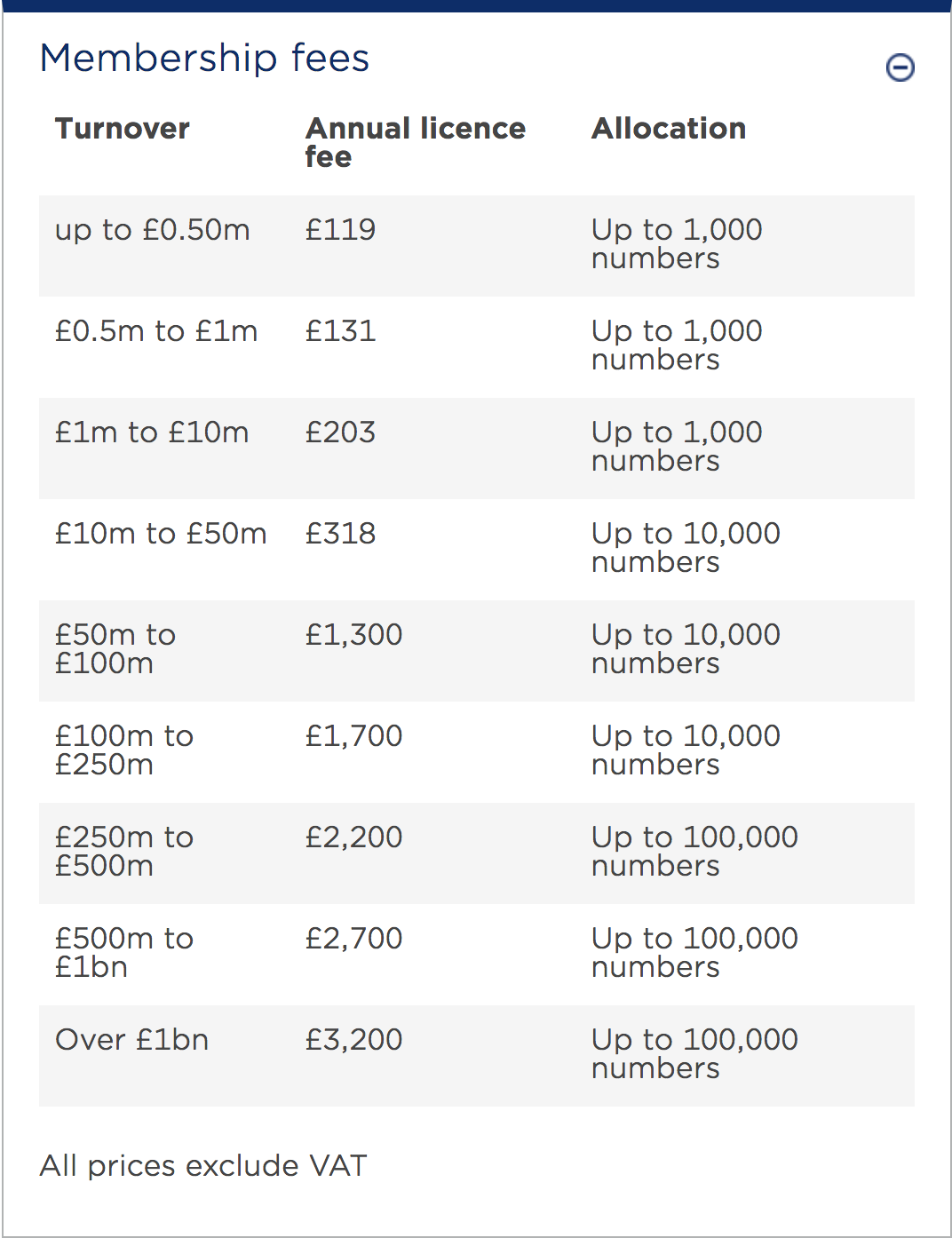 These prices were correct at the time this article was written, but please check with GS1 for current pricing.
What is a GTIN?
A Global Trade Item Number (GTIN) is a number that uniquely identifies a product. You see them beneath the barcodes on almost every product in the world. Which is why they're often called 'barcode numbers'. In the UK and Europe they're usually 13 digits long (called EAN13), in the US 12. You might see shorter 8 digit numbers, used on smaller products. There are even 14 digit versions, to identify cases of products. The same numbers are used to identify products sold online too. The important thing to know is that they are all licensed from GS1 organisations around the world – to guarantee their uniqueness. When you join GS1 UK you can create all the GTINs you need.
What GTIN Type Should I Use?
If you are selling products in the UK or EU, you will most likely want to use EAN13 GTINs.  These are essentially 13 digit numbers that can be used to uniquely identify a product.
If you are getting barcodes made to satisfy a customer, it may be worth checking with them that EAN13 is suitable, but it usually is.
What is an EAN?
A European Article Number (EAN) is the name given to the standard barcode image you see on most products sold around the world. It represents the number – or GTIN – you see beneath it. Retailers and marketplaces often ask for 'EANs' when you list your products with them. What they are really asking for is the GTIN, or barcode number, which you can create when you join GS1 UK.
How do I generate barcode images?
Most label software (i.e. Zebra Designer) has inbuilt barcode generation.  All you need to do is enter the type (i.e. EAN13) and your GTIN and the software will create your barcode.  An example of an EAN 13 barcode is shown below.

If you require an electronic version of your barcode, you can purchase them from GS1 or use one of the many free online barcode generators.  I like the Terry Burton Online Generator as it is easy to use and free.  If you do use this service a lot, please contribute to help keep this service online for others.
https://www.terryburton.co.uk/barcodewriter/generator/
Check Digit
When you create your EAN 13 GTINs, you will notice that the last digit appears a little random.  The first 12 numbers are usually sequential, i.e. if you remove the last digit, you will find that your EAN codes all increment by 1:
1110486190003
1110486190010
1110486190027
1110486190034
This 13th digit is a check digit.  In essence, if you get one of the 12 main digits wrong, the check digit will fail validation and you will get an error message when trying to generate the barcode.  This is really useful.  If you love mathematics and want to find out how this is done, check out this Wikipedia article.
Summary
So, that's it.  Simply join GS1 and start using barcodes on your products today!