Trendspotting: Autumn 2023
Step into the world of autumn as we delve into the pulse of what customers will truly want next season. In this report, we uncover the autumn's hottest home fragrance trends to help you get ahead of the curve and make candles, wax melts and diffusers that will be the talk of the season! 
The trend:
This trend is all about diving into the richness and bounty of the harvest season while respecting Mother Nature. Customers will love warm and rustic aesthetics such as earthy tones with natural textures, combined with the comforting, rich scents of nature.
Behind the trend:
People are seeking a stronger connection to nature and traditional craftsmanship. This trend emerges as a response to this desire for simplicity, community and authenticity. With autumn being synonymous with bountiful harvests, consumers will be drawn to products that celebrate the beauty of nature and the warmth of family gatherings.
What it means for creators:
Leverage this trend by using natural and sustainable materials for your products and packaging. Incorporate elements like dried botanicals, choose rich natural colours for your products and consider kraft for your packaging. When choosing scents, focus on warm and comforting fragrances that evoke cosy autumnal evenings. As a little rustic extra, you can even seal your packaging with some twine or draw some illustrations on it.
Recommendations:
Fragrances: Black Fig & Vetiver, Fireside, Cinnamon, Frankincense & Cedarwood, Blackberry & Bay, Tamed, Pumpkin Spice and Cinnamon & Apple
Dyes: 6099/25 Orange, 30/6107 Red, 34/5647 Dark Red, 5700/10 Gold Yellow, 28/1437 Rust Orange and 6143/76 Olive
Mica powders: Cinnamon, Cocoa, Sparkling Sands, Maple and Kiss
Botanicals: Cinnamon Bark, Dried Orange Slices and Chamomile Flowers
Vessels: 100ml Amber Evie Diffuser, 100ml Amber Squat Diffuser, 3-wick Amber Candle Jar, 30cl Amber Lotti Candle Glass and 30cl Ebony Amber Candle Jar
The trend:
Scandinavian Simplicity revolves around minimalistic design and clean, fresh scents to create a feeling of cosiness and contentment. Customers will rave about natural products with neutral colours, simple shapes and clean lines.
Behind the trend:
The popularity of this trend can be attributed to the global fascination with Scandinavian lifestyle concepts like Hygge and Lagom, which emphasize comfort, simplicity and balance. As the weather gets colder and the days darker, cosy and grounding elements will increasingly attract customers.
What it means for creators:
Capitalize on this trend by creating products with minimalist design aesthetics, favouring neutral colours and simple vessels without adornments. Choose understated yet layered fragrances that capture the crisp freshness of Scandinavian autumn. When picking your packaging, opt for clean-cut lines and a modern look.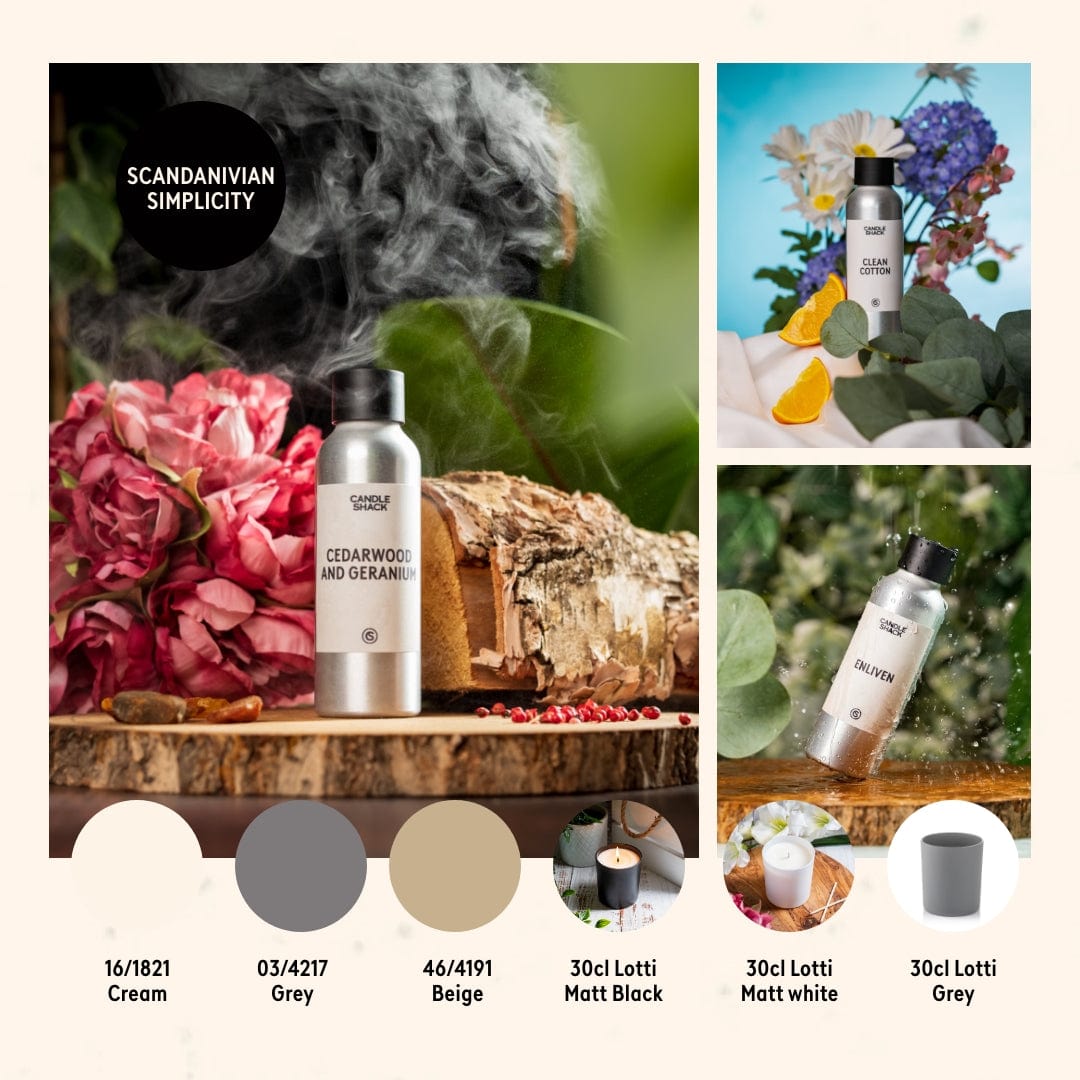 The trend:
The Modern Mystique trend is all about the mysterious and mystical side of autumn. This trend identity leans towards darker, more dramatic aesthetics combining modern elements with gothic or witchy twists, elevated by intense, unconventional and mysterious scents. It incorporates the fantastical with the contemporary, creating delightful contrasts.
Behind the trend:
This trend taps into the fascination with the supernatural and the unknown, which tends to spike during autumn due to holidays like Halloween and the gloomier weather. It's also a reflection of the broader cultural interest in witchcraft, mysticism and spirituality that has been gaining traction in recent years.
What it means for creators:
Make the most of this trend by exploring bold contrast between dark elements and vibrant colours, adding mystical imagery through wax melt embeds (like moons, stars or skulls), engraved vessels or by drawing designs on top of candles with candle pens. Pair them with bold and atmospheric scents to complete the effect, adding an air of mystique to your products. Finally, choose modern and dark packaging to elevate your products and create a complementary unboxing experience.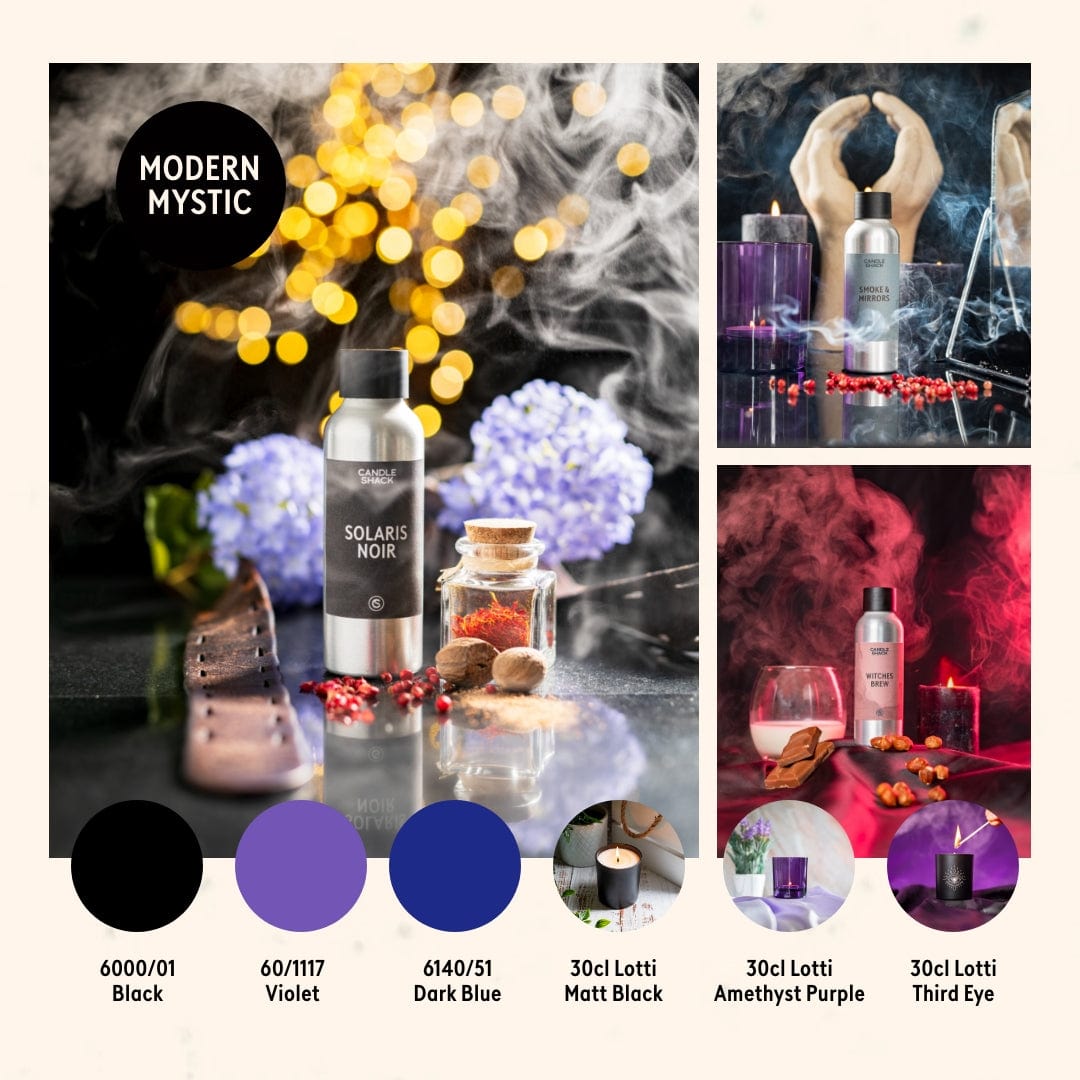 Take these insights and make them work wonders for your brand! Once you've found the perfect trend for your brand, think about how you can give it your unique twist, making it unmistakably yours. We can't wait to see the incredible products you come up with! So, let's get creative and have some fun with it!