Standard Starter Kit - EcoSystem RCX (Rapeseed & Coconut Wax Blend)
Secure Payments
Choose from a variety of encrypted payment options like Visa, Mastercard, PayPal pay in 3 and more.
Learn More
Fast & Secure Delivery
Get your supplies quickly and on time, without breakage or leaks, with our delivery partners.
Learn More
BUNDLE002
Ready to make beautiful candles that burn perfectly and smell out of this world? You're in the right place! We'll teach you the skills and processes you need with our EcoSystem RCX wax standard starter kit. You'll get all the supplies you'll need to make 6 beautiful candles but you'll need to invest in some pieces of equipment yourself. You'll need kitchen scales, a thermometer (like this one), and a microwavable 1L jug. If you're looking for a more complete kit, our premium starter kit comes with a Chandler & Me Candle Maker that you can use again and again meaning you'll only need scales! 

Worth £55 (incl. VAT), work with chosen fragrances and recipes to build out dreamy candles. Our recipes are recommendations developed by our in-house lab and so you'll know just how much wax and fragrance you need to add to get a beautiful candle. You can save these handy PDF guides if you want to make that candle again. All our starter kits have tailored videos that outline the step-by-step process of how to use your recipes and work with your equipment. Our CEO and Head of Innovation, Duncan, will get you comfortable with the concepts of candle-making and talk you through the process. We'll email you a link to access your video after you purchase your kit! 

Our kit contains EcoSystem RCX, our most popular plant-based wax designed by Candle Shack. We've worked hard to perfect this wax to help you make sustainable candles.
We've also added two of our customer's favourite fragrances:
Cigar Lounge
and
The Emperor
. Explore more about the wax and the fragrances below.
What's In The Kit?

1 box of 6 amber 30 cl glasses
50g Cigar Lounge Fragrance Oil
50g The Emperor Fragrance Oil
1 x wick press
1 x 10 pack adhesive wick pads
3 x wick claws (the three jar wicking tool)
CL 16 wicks
CL14 Wicks
2 x 800g of RCX Wax
More on EcoSystem RCX

Introducing our EcoSystem Rapeseed & Coconut (RCX) natural wax blend.  This wax is blended in Europe exclusively for Candle Shack and is made from rapeseed oil and coconut oil and nothing else.  It is completely free from paraffin, soy, palm, beeswax and synthetic additives.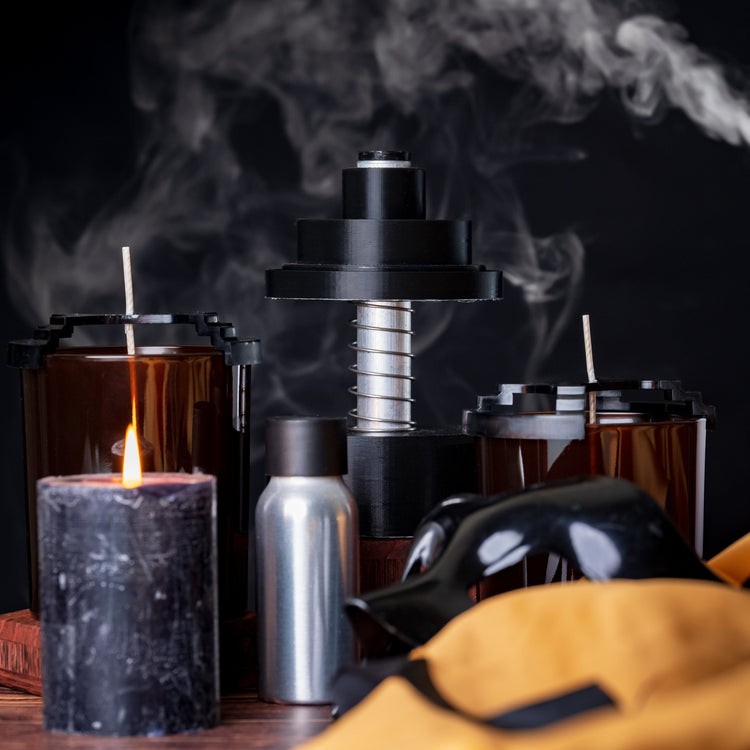 Explore The fragrances
Our favourite part of candle-making - the fragrance! Your starter kit comes with four stunning fragrances that each come with its own recipe. We'll email you the recipes but you can download and store them from here if you'd like. Discover each of the two fragrances below.
The Emperor
A striking and powerful aroma, The Emperor Fragrance Oil commands the attention of your senses, catching the eyes, noses and smiles of all, but seeking only one. A rich, rambunctious scent with significant depth and sophistication and yet a charming level of simplicity, this fragrance is incredibly striking.
Cigar Lounge
Smooth and smoky, this sophisticated scent is accented by warm tobacco tones, topped by sweet rum and zesty citrus fruits. Rich clove embraces the full bodied and balsamic tones of Labdanum, which come to rest on an aromatic bed of leather, peppered with a hint of moss and swirls of amber.