Trendspotting: Christmas 2023
Only a few short months until Christmas! We can't wait to be all snuggled up in comfy jumpers, with big mugs of hot cocoa under the soft glow of candles… Before we can get there, though, we have to prep for the jolliest of seasons and plan out our home fragrance collections. To help you make amazing candles, wax melts and diffusers that your customers will just have to have, we've analysed the market and pulled together the top 3 trends that will help you win this Christmas.
The trend:
Holiday Storytelling aims to create a deeper emotional connection between consumers and their holiday decor. Candles, wax melts and diffusers become more than just scented items; they serve as storytellers that evoke memories, traditions, and a sense of nostalgia. Customers want to be swept into a festive tale and escape into Christmas stories with their home products.
This trend allows creators to offer more than scents. It enables consumers to connect emotionally with home fragrance products as storytellers of cherished holiday memories and traditions, enhancing their role as integral components of festive celebrations.
Behind the trend:
In an increasingly digital world, people seek tangible items that evoke emotions and stories. They want to be drawn into rich narratives that they can then explore and experience for themselves. Holidays are also often associated with cherished memories and family traditions, creating a strong desire to dive back into these times past and relive them.
What it means for creators:
To embrace the Holiday Storytelling trend, develop themed collections with unique holiday stories that are narrated both on the product pages and in the packaging. Make sure all the visual aspects of your products, from vessels and labels to packaging, support your narrative and immediately pull the customer into your stories. Your fragrance choice will be a critical part of your storytelling so favour rich scents upon which you can build a captivating narrative.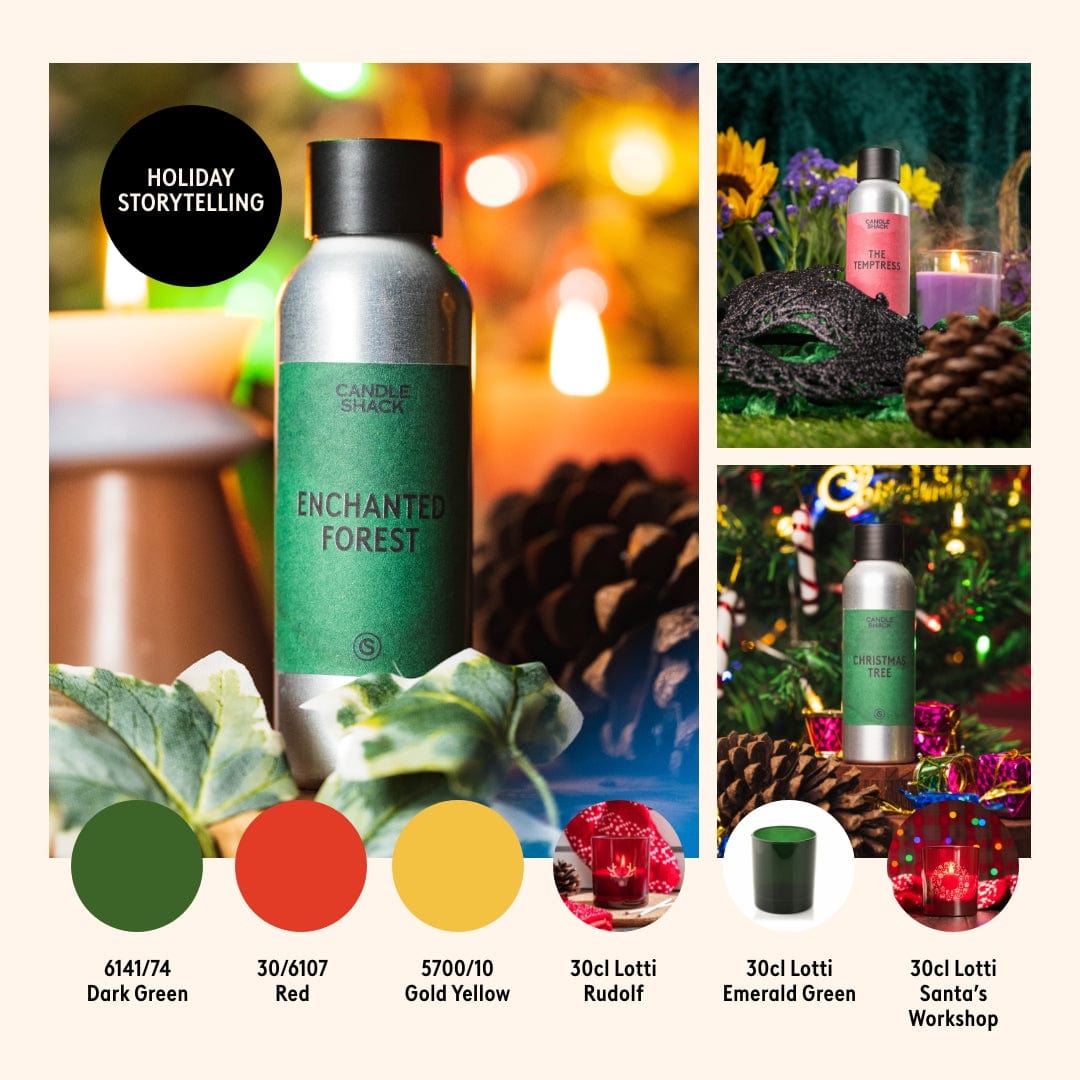 The trend:
This Christmas, shoppers will love diving into the revival of traditional and nostalgic holiday decor. This trend involves embracing the styles and aesthetics of Christmases past, particularly those from the mid-20th century with a focus on artisanal products and craftsmanship.
Behind the trend:
Through vintage decor and home fragrance products, shoppers try to separate themselves from the modern over-commercialization of the holiday season, focusing more on local, handmade and heartfelt elements. Vintage Christmas home fragrance products also offer unique and charming aesthetics that help customers and their home decor stand out in a world of mass-produced holiday items.
What it means for creators:
Bring this trend to life in your own products by choosing nostalgic scents that your customers will recognise and that will immediately remind them of the warmth and cheer of Christmases past. For your vessels, go for amber and vintage-inspired containers that reflect the aesthetic of past eras. Incorporate rustic and handmade elements to evoke nostalgia, such as botanicals in wax melts, artisanal kraft packaging and hand-written labels. You can even tie your candle and diffuser boxes with pieces of twine for an extra touch of vintage charm.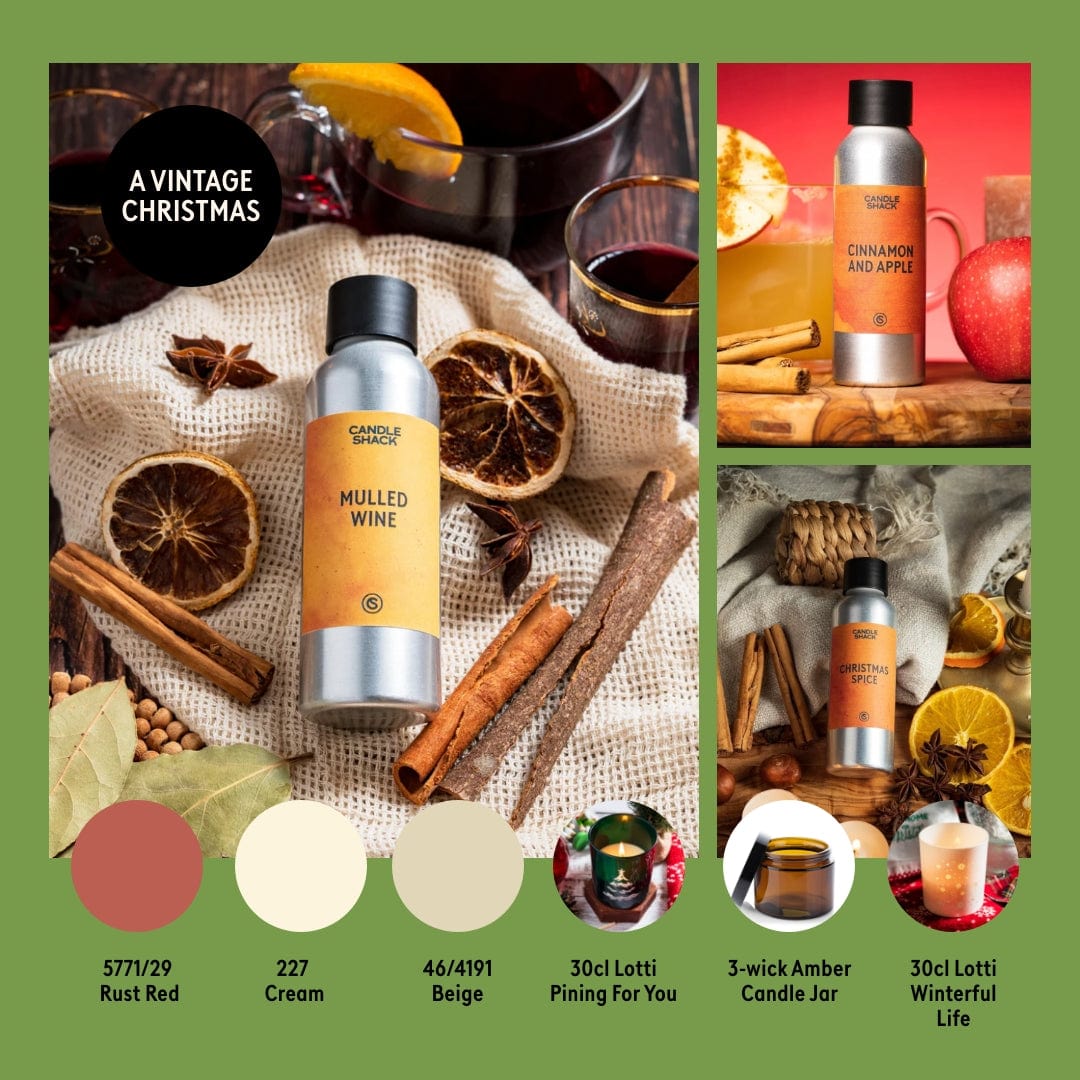 Recommendations:
Fragrances: Cinnamon & Apple, Christmas Spice, Luscious Vanilla, Mulled Wine and Spiced Orange
Dyes: 5771/29 - Rust Red, 227 - Cream, 46/4191 - Beige, 6146/74 - Dark Green, 40/2377 - Beeswax and 28/1437 Rust Orange
Vessels: Pining For You, 3-Wick Amber Candle Jar, 30cl Lotti Candle Glass - Matt White, 30cl Lotti Candle Glass - Amber and Winterful Life
The trend:
This trend is all about embracing the sparkle and opulence of the holiday season. This Christmas, shoppers will be looking for glittery products with metallic accents to add a touch of glamour to their own festive decor. These candles and diffusers will not only be sought after for functional purposes but also to serve as eye-catching, decorative elements and centrepieces that enhance the overall ambience of holiday celebrations.
Behind the trend:
After enduring challenging times, people are eager to celebrate and make holidays feel extra special. Glittery and glamourous candles, wax melts and diffusers help create a celebratory atmosphere. It's also a chance for customers to create an Instagramable decor that will help them shine on social media.
What it means for creators:
To capitalize on this trend, choose glossy, sparkly and metallic vessels paired with luxurious fragrances that evoke the excitement and bubbliness of parties. With wax melts, use mica powders to add extra shimmer to your products. Last but not least, create sophisticated and eye-catching packaging, choosing opulent materials and dazzling colours.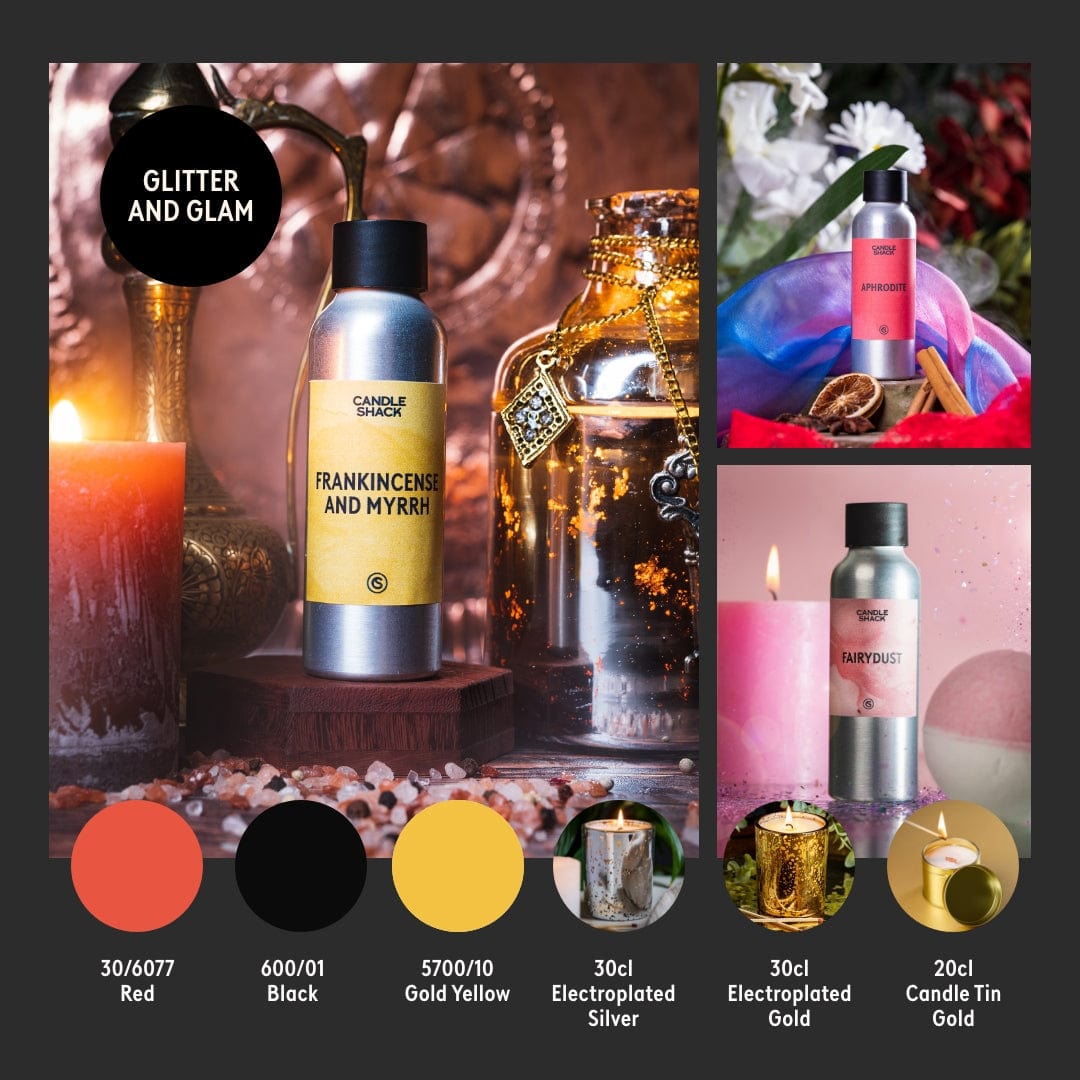 Now that you know what your customers will be looking for this Christmas, it's time to get making! We can't wait to see what beauties you will create…