White Musk & Amber Fragrance Oil
Secure Payments
Choose from a variety of encrypted payment options like Visa, Mastercard, PayPal pay in 3 and more.
Learn More
Fast & Secure Delivery
Get your supplies quickly and on time, without breakage or leaks, with our delivery partners.
Learn More
FRAG0341
Add a little romance to your life with our dreamy White Musk & Amber Fragrance Oil. The epitome of winter elegance, this fragrance will instantly transport you to a romantic evening in the Mediterranean with its captivating combination of floral, woody and Oriental notes. Beautiful in candles, wax melts and room sprays. More info.
SAFETY DATA SHEETS
IFRA 49:  Please be advised that from the 10th May 2022, this oil cannot be used above 11% in Reed diffusers.  It can be used at up to 20% in products sold before this date.  
We are working on a modified oil at the moment.  Please check our IFRA 49 blog for updates.
A selection of SDS (oil, candle, diffuser) and labels can be downloaded below.
If you cannot find the SDS you require (i.e. different scent loading), please ask us, as we may be able to create it for you.
Section 2.2 of the SDS highlights the CLP information to be shown on product labels.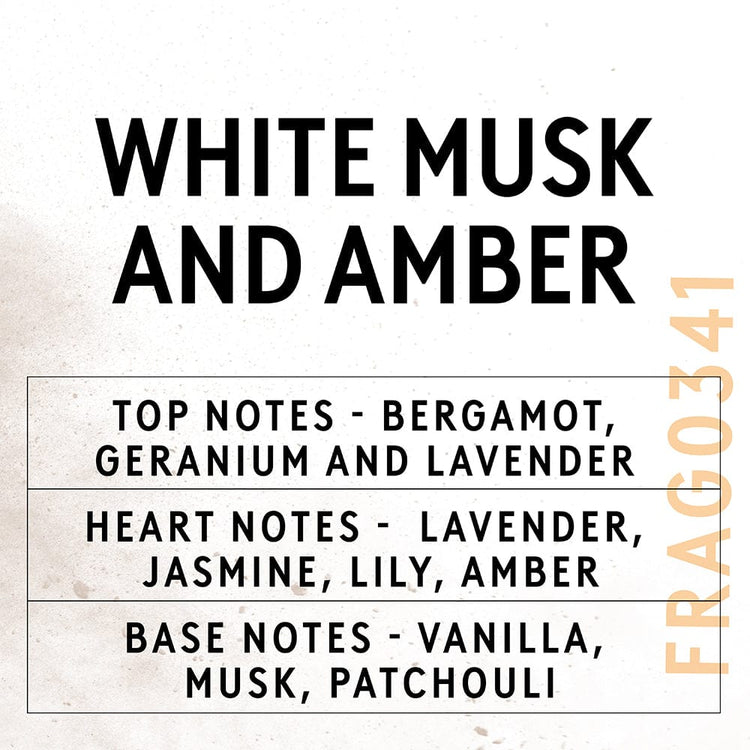 Extra Information
clp label design tool

Our free CLP label design tool is the best way to quickly get an accurate label and combine it with your saftey information.

You'll find all the Candle Shack fragrances and essential oils included. If you run into any trouble or have any questions about our CLP tool, head to our CLP FAQ Page.

To launch the CLP tool, click here.