Standard Starter Kit - Golden Wax 464
Secure Payments
Choose from a variety of encrypted payment options like Visa, Mastercard, PayPal pay in 3 and more.
Learn More
Fast & Secure Delivery
Get your supplies quickly, without breakage or leaks, with our delivery partners.
Learn More
BUNDLE003
Let's get you making perfect candles with our Golden Wax 464 standard starter kit. Find all the supplies you need to make 6 gorgeous candles. There are a few bits and pieces you'll need to grab before you get started - kitchen scales, a thermometer (you can find one here) and a 1L microwaveable jug. If you're looking for a more complete set, we recommend our 464 premium starter kit which comes with a Chandler & Me Candle Maker. The Chandler & Me was designed to work with 464 and takes a lot of the guesswork out of candle making. 

Worth over £55 (incl. VAT), our standard starter kit is the ideal opportunity to kick-start your candle-making journey. Each of the chosen fragrances comes with recipes and recommendations so you'll know just how much wax and fragrance you need to add to get your perfect candle. You can save these handy PDF guides to make the candle again. As a bonus, our starter kits have tailored videos that outline the step-by-step process of how to use your recipes and work with your equipment. Our in-house experts will get you comfortable with the concepts of candle-making and talk you through the process. We'll email you a link to access your video after you purchase your kit! 

Our kit contains 464, one of the industry's favourite plant-based waxes to help you make sustainable candles. We've also added two of our customer's favourite fragrances: Peony & Blush Suede and Rocksalt & Driftwood. Explore more about the wax and the fragrances below.
What's In The Kit?

1 Box of 6 Clear 30cl Glasses
50g Peony & Blush Suede Fragrance Oil
50g Rocksalt & Driftwood Fragrance Oil
1 x Wick Press
1 x 10 Pack Adhesive Wick Pads
3 x Wick Claws
Stabilo 16 Wicks
2 x 800g of 464 Wax
More on Golden Wax 464

Discover the most popular soy wax: Golden Wax 464.

This smooth and creamy plant-based container wax is produced by global wax giant AAK under the Golden Wax name. It offers an excellent scent throw, beautiful depth of colour, good adhesion and shiny tops.

464 is an excellent vegan-friendly wax made from responsibly-sourced soy. AAK takes sustainability very seriously, so you can be sure the products you are using meet rigorous ethical and environmental standards. Read all about it here.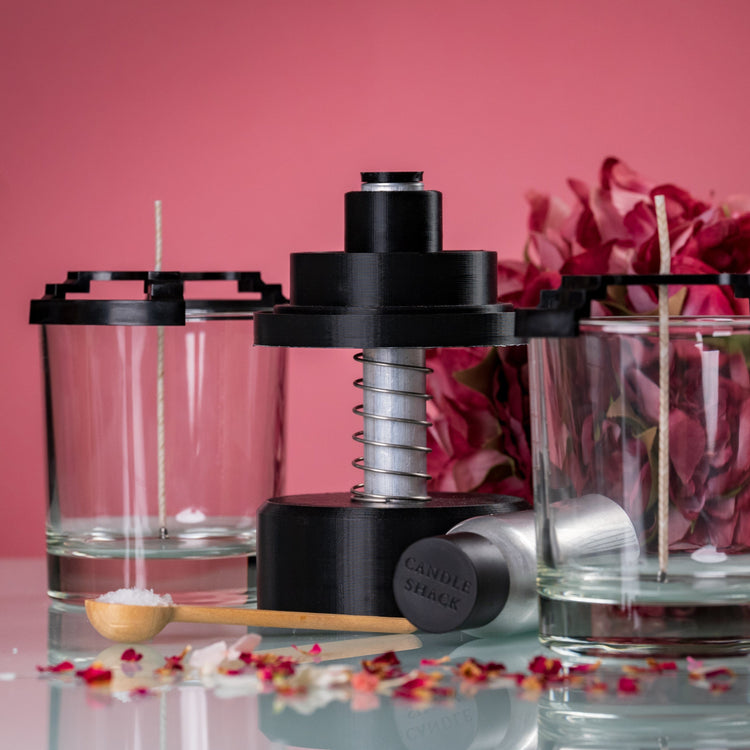 Explore The fragrances
Our favourite part of candle-making - the fragrance! Your starter kit comes with four stunning fragrances that each come with its own recipe. We'll email you the recipes but you can download and store them from here if you'd like. Discover each of the two fragrances below.