Trend Spotlight: 2023 Wedding Decor
Wedding season is upon us!
To help you create mesmerising masterpieces that will steal hearts and minds everywhere, we've researched and analysed the market to find what home decor trends will dominate the wedding circuit this year. So dive in and explore wedding planners' likes, dislikes and expectations before anyone else.
The trend:
Eco-friendly weddings have been steadily rising in recent years and this interest is stronger than ever. This wedding season, sustainability has tied itself to the great outdoors. Couples will be looking to hold their ceremony and/or party in nature (gardens, fields, beaches and forests are top contenders) and doing so in a sustainable manner.
Behind the trend:
The unique aesthetics and perceived wellness benefits of nature seduce an increasing number of couples in holding their wedding outdoors. This is also seen as a way to break from stuffy tradition and adds some levity and organic fun to the event.
What it means for creators:
To infuse weddings with the wonders of the great outdoors and sustainability, choose natural and soft hues and match them with nature-inspired fragrances. When making candles for outdoor weddings, tins are a great option as they are not only safer than glass but also infinitely recyclable. We would also recommend plant-based waxes and wood wicks, and for diffusers, the EcoSystem vegan-friendly base and perfumer's alcohol are great choices.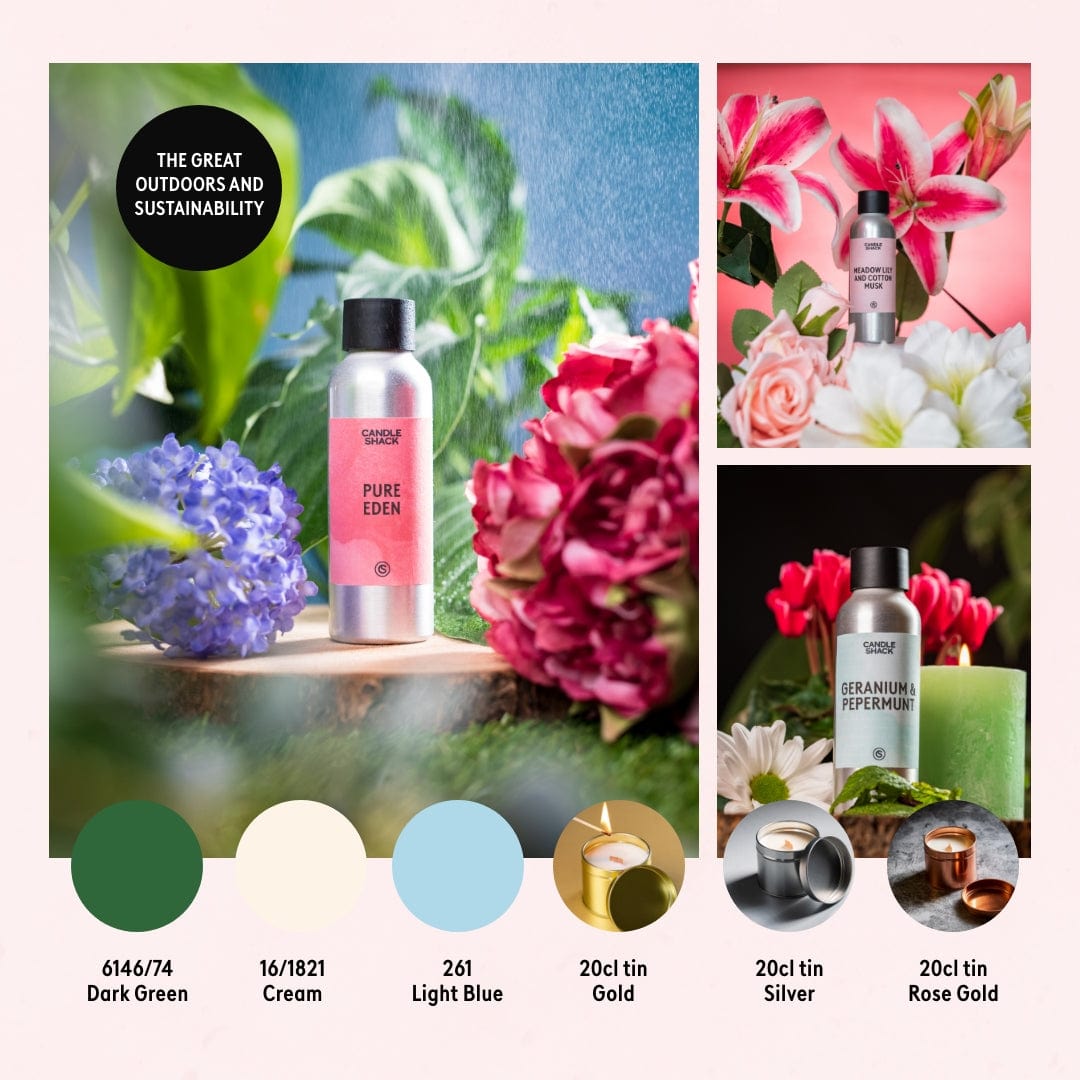 Recommendations:
Fragrances: Lavender & Patchouli, Geranium & Peppermint, Citronella & Lemongrass, Pear & Freesia, Meadow Lily & Cotton Musk, Pure Eden, and Velvet Peony & Oud
Containers: 20cl Candle Tin - Rose Gold, 20cl Candle Tin - Gold, and 20cl Candle Tin - Silver
Dyes: Bekro Dye - 46/4207 - Beige, Bekro Dye - 16/1821 - Cream, Bekro Dye - 03/4217 - Grey, Bekro Dye - 6146/74 - Dark Green, Bekro Dye - 40/2377 - Beeswax, and Bekro Dye - 261 - Light Blue
The trend:
One of the significant trends of the 2023 wedding circuit will be colour. Many couples will break from the usual soft neutrals by pairing (or replacing) them with bold and vibrant hues. Beyond just colour, patterns and texture will also take an important role in making vibrant colour schemes pop. From fresh to moody, colour will be king.
Behind the trend:
After challenging years of lockdowns and recession, happy couples are keen to focus on the brighter things in life and celebrate to the fullest. Colours are also seen as a great way to personalise the event, making it more representative of couples' own personalities and tastes.
What it means for creators:
To help happy couples bring light into their special day, favour colourful glassware with unique textures and bold colour schemes. Pair them with equally vibrant fragrances and if you are making candles, wax melt embeds will help you add unique patterns and textures to your products.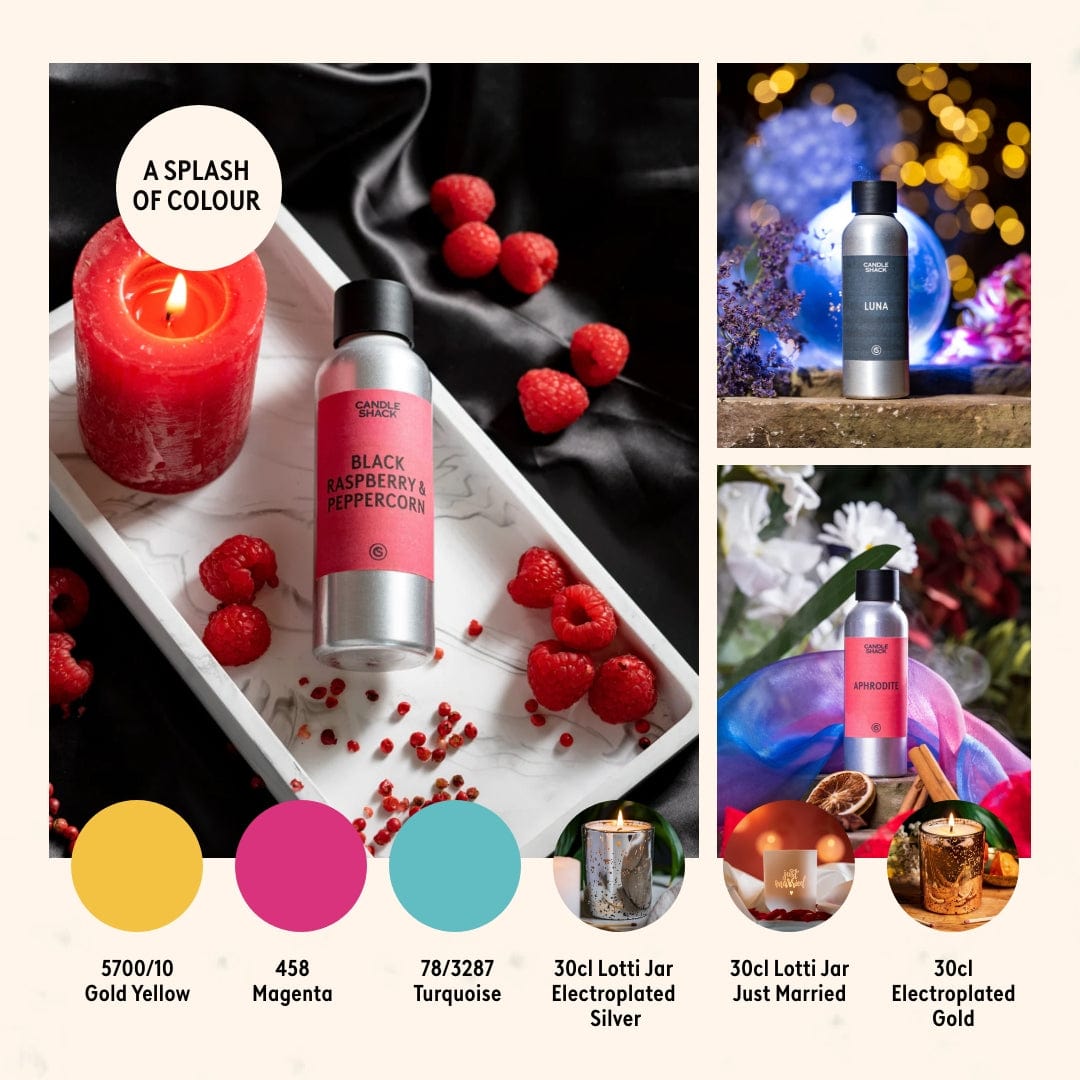 The trend:
The next big thing for 2023 weddings will be statement isles. Wedding planners will make sure that the walk down the aisle will be mesmerising in and of itself. Forget about straight neutral paths and picture serpentine lanes with edges filled with candles, garlands and/or flowers. It's all about making that grand entrance unforgettable.
Behind the trend:
A product of the social media generation, statement aisles are seen as a way to differentiate weddings from one another and create an ultra-Instagramable setting. They are also a golden opportunity for couples to infuse their venue with creativity and their own personal styles.
What it means for creators:
This trend is the epitome of going big or going home. To help your home fragrance products make it on these coveted aisles, choose bold scents and vessels that catch the eye. Etches will be particularly popular. Don't be afraid to use colour and little effects. Wax melt embeds on top of candles will help you stand out and add an extra touch of luxury to your creations.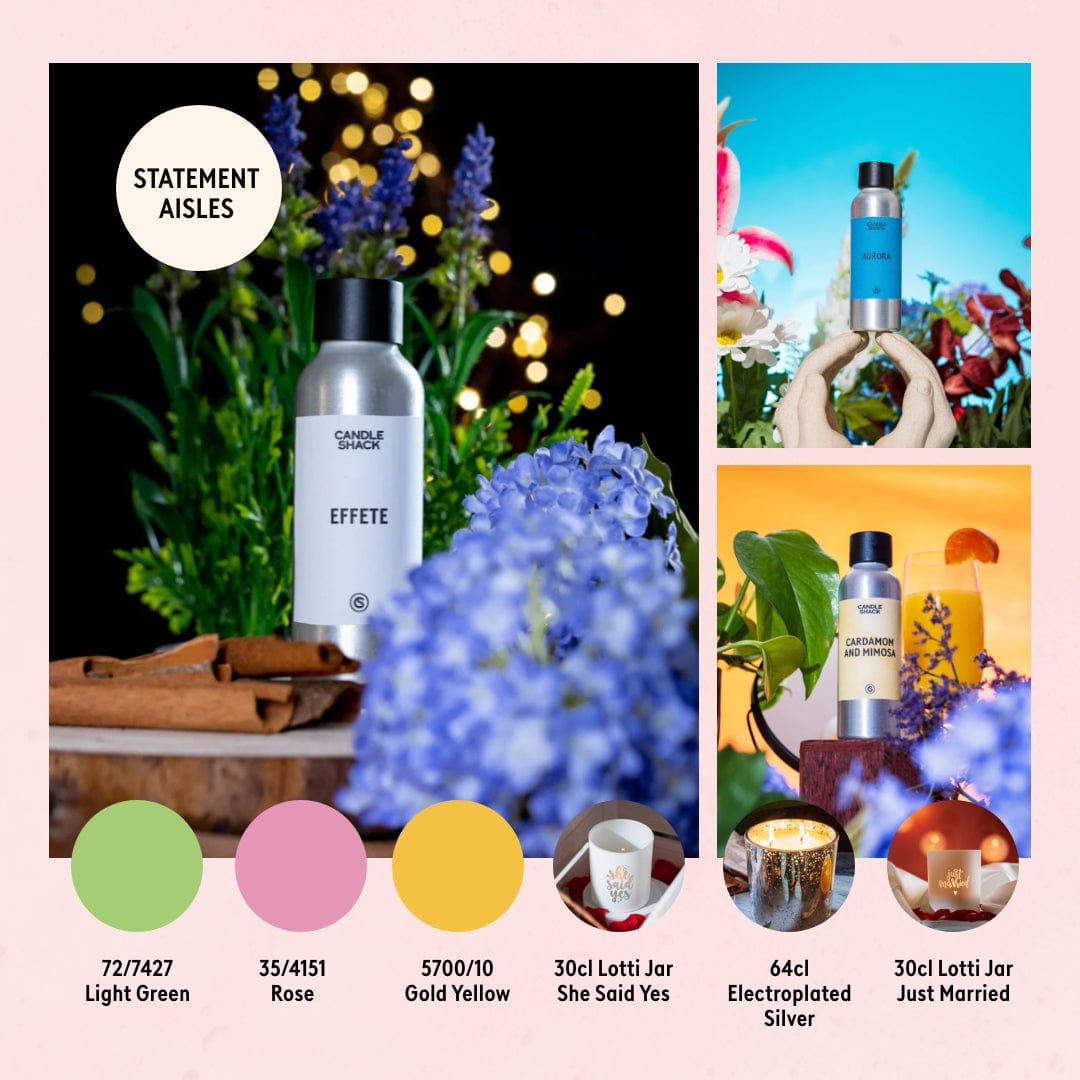 Recommendations:
Fragrances: Aurora, Aphrodite, Luna, Effete, Cardamom & Mimosa, and Arabian Princess 
Glassware: 64cl Tall 3-Wick Candle Bowl - Electroplated Gold, 64cl Tall 3-Wick Candle Bowl - Electroplated Silver, 64cl Tall 3-Wick Candle Bowl - Electroplated Copper and 50cl Candle Glass Bowl - Frosted Finish
Dyes: Bekro Dye - 35/4151 - Rose, Bekro Dye - 30/6107 - Red, Bekro Dye - 51/4027 - Blue, Bekro Dye - 5700/10 - Gold Yellow, and Bekro Dye - 72/7427 - Light Green
Which 2023 wedding trend inspires you the most? Go beyond the insights and make them work for your brand. Adapt and tweak them to create unique masterpieces that elevate your brand while tapping into wedding planners' aspirations. We can't wait to see what you'll make!